You know those weekends that you never want to end. This weekend was one of those weekends. It was the first weekend that we didn't have to wake up at dawn on Saturday to get Ethan off to a Speech tournament. We slept in on Saturday and it was wonderful.
We kicked off our weekend by attending an awesome Birthday party for a wonderful young man. I am talking Awesome Party, one that I am sure Noah, the birthday boy, will never forget. His parents went above and beyond and it was as much fun for us grown ups as it was for the kids. They rode go-carts, a Drag Racing simulator. That thing was amazing, the kids loved it. They rode bumper cars, thank God it was a hot day so the cool water felt refreshing. They played arcade games and were so sweet to each other. The kids were sharing their tickets and everything. Noah hit the jackpot and won over 8000 tickets. Talk about a grand birthday. Cameron spent the entire weekend with Noah and they had a blast.
Saturday, Ethan went 4 Wheeling with friends. When Ethan can drive something he is a happy fella. Madi and I got to play at home and spend some time cuddling, perfect way to spend a Saturday afternoon. Nathan had a cage fight to attend (more on that in a future post),so we were on our own to get into mischief. Madi colored a pillowcase with bright markers, we watched movies and had girl time.
Sunday we spent the day with friends at a swimming hole. Cameron was still with the Hughes family for a continued weekend of fun! The nature reserve we went to was so beautiful and quiet.
Butterflies, crawdads, and snakes were our only company. Good food and great friends.
Bits of Splendor
today, come on over and pay her a visit...her blog is lovely!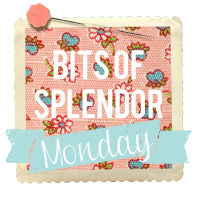 side note...I only had my cell phone this weekend for all the fun, so I apologize for fuzzy pictures today.