Isn't God so good?! He mends us when we need mending. He tends to us. I saw this poster over the weekend. I thought of Nate's Mom (my Mom) who is an excellent seamstress and then I thought of God, and how good He is. He wants to mend our broken hearts and souls.
There are many verses that tells us of God's will to heal us and make us whole...
Yet you, Lord, are our Father
we are the clay, you are the potter,
we are all the work of your hand. Isaiah 64:8
If we allow God to touch us and work in our lives, He will.
My words are life to you and health and medicine to all your flesh. Proverbs 4:22
I heal your broken heart, and bind up your wounds. Psalms 147:3
If you are sad, you will be comforted, if you are broken, you will be mended. God makes these promises to us. If you think back to a time when you were hurting, do you not remember how He brought you through it.
I hold on to these promises not only for me but for my children. When they are hurting I bring them to God's word. When I have no words for their pain, God does. I am so thankful for that.
We had a busy weekend, as usual, I look forward to a day when no one has anywhere they
have
to be. We are in final stretch at our little school. The school year is almost over and the kiddos are ready for summer. I have to admit, I am too. Have a beautiful Monday lovelies.
May god Bless you today and mend anything in your life that needs mending.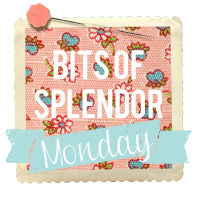 Today I am linking up with
Bits of Splendor.
...Go check her out.