Today I am going to show you the sweetest flip flops ever. Got the idea from my Sister-in-law...She saw these cute creations while she was in Florida on vacation. They are so easy to make and your little girl will love them. Head on over toTatertots and Jello for her amazing weekend wrap up party. So many amazing ideas.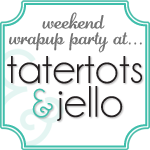 You will need...
water balloons, I like the slightly bigger ones because they are easier to tie...
A pair of flip flops, any color

I am Linking up with Somewhat Simple
I am blog hoppin with 1 Epic Mom.
.
and I am digging Fab friends Friday over at I Blog 4 Me.